Valmeinier 1800 is a lovely resort in the Galibier-Thabor region of the French Alps with lots to do in both winter and summer. In the winter the easy access to 150km of ski runs over three summits and 89 pistes at all levels of difficulty, makes it is ideal for both beginners and expert skiers and snowboarders.
The 150km of piste is made up of a good mix of Green, Blue, Red and Black runs to suit all abilities. Due to its' altitude, you will quickly get above the tree line, so there is usually plenty of off piste to tackle. There are parks for fun, board and ski with a range of jumps and a half pipe. The ESF ski school is nearby and offers group and private lessons.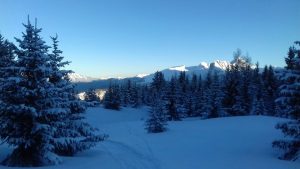 It is mainly a French resort with clientele from France, Belgium and Holland, along with a smattering of British. There is one English hotel in the village, but many restaurant and bar staff can speak English. There is a creche and nursery for younger children nearby and a disco for older teens and adults about 400m away. It is known as a family friendly resort and caters for children well.
The shops are predominantly ski/sports shops where you can buy and hire skis, snow boards, rackets for walking and e-bikes and bikes in the summer. There are a few souvenir shops, two bakeries and grocery store. The restaurants vary, from panini and good pizza, to more traditional French dishes, especially fondue and tartiflette. There are a couple of restaurants that offer a wider French cuisine and booking in advance is advised.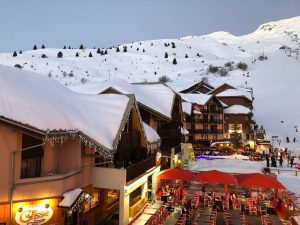 The main village area is car free and everything is in walking distance.
There are quite a selection of ski hire shops and we can recommend some that might give you discounts. If you book ski hire online before arrival many offer value packages.
We bought our apartment in 2005, having explored other options in France, Italy and Austria. We wanted to be able to ski with our three young children in a friendly, safe yet developing resort and so we chose Valmeinier. It also helped that it was relatively unknown at the time and so about 50% cheaper than most other ski resorts. Since then we have made our apartment a 'home from home'. Although the children are all adults now, they and their partners come back with us each year to enjoy the snow and all that Valmeinier has to offer.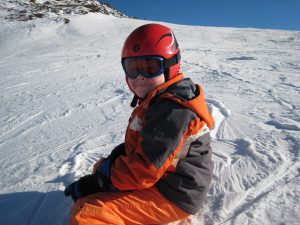 Whilst Valmeinier has developed as a resort over the years it has retained its village feel and look. When we first arrived the resort had no pavements, now it has a small ice rink, cinema and bowling alley. The development has largely taken place on the slopes with upgraded and new lifts and ski runs. Last year, they introduced a run with fun obstacles and a tunnel to go through which is very popular with children.
Development is also evident in the summer months with the introduction of e-bikes, segways and e-scooters all available for hire alongside regular mountain and road bikes. This has resulted in the lifts adapted for bikes being open 7 days a week and more MBT runs being developed. For us, this all makes it a great place to return to year after year in both summer and winter.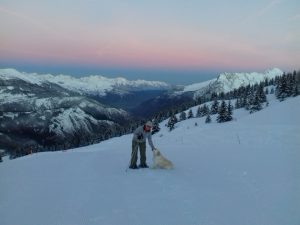 Joanna out walking early one morning (Jan 19)