There is a lot to do in the Alps in the summer where the weather is usually comfortably warm.
The French do mountain boarding – like a normal skateboard but with a string attached to a brake. Some years ago we booked our eldest son into mountain boarding lessons which he enjoyed and took to very well. We admired his skill but never had the courage to do this ourselves!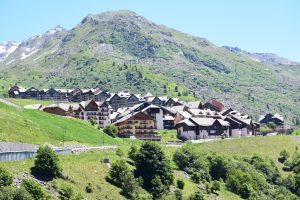 Our youngest son, when only 5 went to circus school and thoroughly enjoyed himself. Meanwhile our teenage daughter and I did hip hop and aerobics.
Mountain biking is increasingly popular in Valmeinier with several trails and bikes, electric bikes, segways, and scooters available for hire. The roads are also very popular with cyclists and every few years the Tour de France comes through the nearby pass. If you are fit, try the climb from St Michel de Maurienne for 14 kilometres of challenge and an 1800 metres increase in altitude. This year the Marmotte road race came by on their 100 mile journey.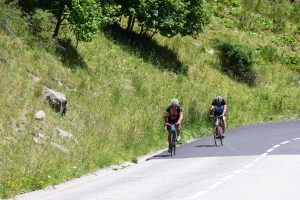 Walking and hiking are also very popular and there are numerous trails leading up into the mountains. There are also refuges that can offer a spectacular rest, though some need to be booked via the Tourist Office.
In 2018, as well as mountain biking, I did two stunning walks with a friend. First, we did a 5 mile round trip up to a small lake called "Le Lac Vert". It certainly was green and beautiful! We followed the 'Papillon' trail and saw hundreds of butterflies. There were several families on the trail with young children who were so entranced by the view that I think they forgot they were walking up hill.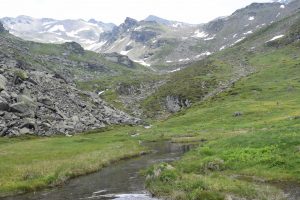 On our second hike we were more adventurous and did a 9 mile round trip climbing over 400 metres up to where there was still snow. The landscape below was amazing. We passed streams, water falls and I was pleased Pam, my friend, could read a map as I may have got lost without it on the way back. My husband wasn't surprised to hear we had had an adventure. On both occasions we took food and water as well as our phones (all a must in the mountains).
The mountains are also a great place to simply relax, spend time reading, gently walking, sitting looking at the view and getting your breath back.