The resort is quieter in the summer when the mountains look very different. You might see bikes, walkers, a paraglider, go-karts, mountain boarding, segway tours and much more going on. There are beautiful trails up to lakes big and small, some suitable for children to explore and a few restaurants in unexpected places for refreshment.
Mountain biking truly comes into its own in the Alps with marked runs in both Valmeinier and Valloire. Fortunately, if you don't fancy walking or cycling up the mountain you can get up via a chairlift adapted to take bikes and people.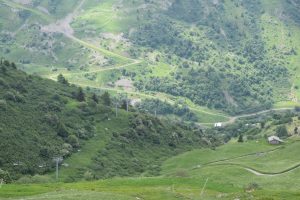 In 2018, we took a group out on electric mountain bikes (e-Mtb) for a 7 day tour. We rode Valmeinier and Valloire for a couple of days to get accustomed to riding in mountains and at altitude. We then drove (large transit van and a car) over to Morzine for two days in the bike park. We came back to base for a day and then went into Italy – only an hour away – and rode the trails and park in Bardonecchia. Valmeinier made a great and reasonably priced base from which to explore several bike parks. Our friends are already planning for next year's trip when I expect we will also grow in number and adventure.
There are often other activities ongoing in Valmeinier 1800 such as circus school, dance classes, trekking, archery, swimming and basketball. I found that the mountain boarding was too scary for me. The weather is usually warm and sunny, however, in the mountains you have to be ready for weather changes and pack accordingly.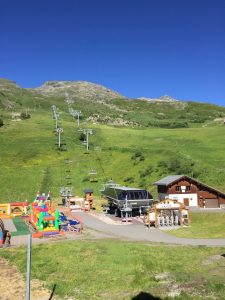 In Valmeinier you will find places to relax, eat, read, catch up on films and generally chill out. If it does rain, our apartment has a dvd player, so you could bring your box sets and catch up!