This is when Valmeinier comes alive, skiing, boarding, snow shoes, Nordic walking, paragliding, microlight, dog sleigh, and more. With over 70% of the 150 km of runs above 2000 metre and the resorts' investment in 400+ snow machines to give nature a helping hand when needed, snow conditions are usually good. The snow pistes are well managed and the 'pisteurs' have a great reputation for safety and keeping well pisted runs open.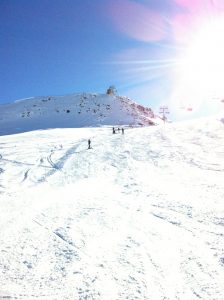 There are 89 ski runs at all levels of ability. The good ski school and the accessibility to Green runs give beginners the opportunity to build their technique and confidence before moving on to a wide range or Blue and Red runs.
For the more adventurous there are 9 Black runs offering some real challenge and there is plenty of opportunity for off piste skiing. In good ski conditions we have skied off piste from the peak at 3000m back to our apartment, finding various ways to avoid the piste and find the powder. Likewise we have skied over to Valloire and then managed to get almost all the way back off piste and going through the trees.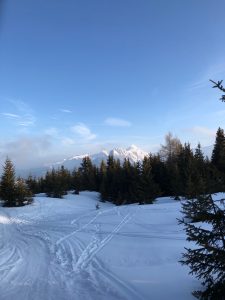 The snow park in the linked resort of Valloire makes for some good jumping experience and practice as well as entertainment watching others.
Because 1800 is right next to protected land there are some beautiful Nordic walks to be had (on racquets) with guided tours available. I like to get up early and walk up for a mile and a half and then run down a piste before they open – although you have to remember to run with your legs slightly further apart to avoid tripping yourself up by stepping on your own racquet and face planting as I did once. Another favourite of mine is going completely off piste (never alone) with a good friend who knows the mountain well and trek up as the sun comes up – magical.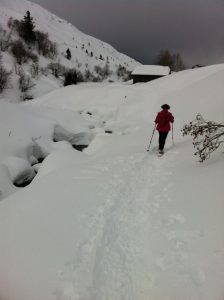 Other winter activities such as Paragliding, Microlight rides, dog sledding, evening snow mobile runs for a meal in a mountain restaurant and much more are also available in the resort and booked via the Tourist Office.